A new infrared 'pothole cooker' is trialled in Swindon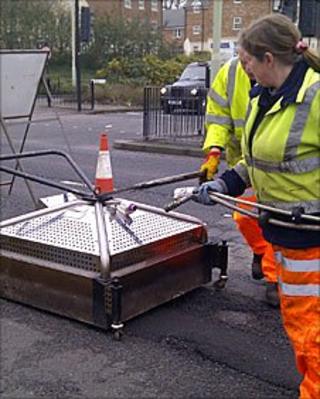 A "pothole cooker" is being trialled in Swindon in a bid to tackle the town's pothole problem.
The device being tested by the council's highways contractor is designed to repair roads quicker and with less waste than current methods.
Using an infrared system, the equipment produces a "seamless and longer-lasting" heat-sealed repair by heating the road's surface to up to 200C.
Using the kit, a typical square-metre repair can be completed in 20 minutes.
"With this new method you're heating the original Tarmac up and you're utilising it," said Roger Read, of Swindon Commercial Services Ltd.
"So on the green issue, you're utilising the Tarmac that's already there - so there's no wastage."
Frozen and expanded
Potholes are formed when water gets into cracks in the road, freezes and expands, splitting the surface.
The weight of traffic then causes further damage.
Swindon Borough Council said it filled in more than 6,000 potholes in 2010, at an average cost of £19.
A council spokesman added that, with a "backlog of approximately 800 roads requiring resurfacing", it is hoped the heat-sealed repair will make it more difficult for water to seep back into the hole once the repair has been done.
"It's definitely a lot easier - it's not so much back-breaking work. And in the long run it's got to be cheaper," added Mr Read.