Erlestoke prison evacuated due to fire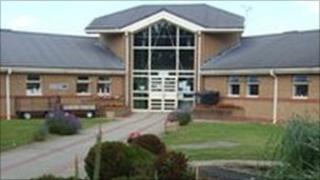 Forty prisoners were led to safety when a fire started in a jail in Wiltshire.
The blaze in Erlestoke Prison, near Devizes, caused damage to a two-storey block in the prison, but no-one was injured.
Three fire engines attended and specialist thermal imaging equipment was used to put out the fire, which started just after 0915 GMT.
Fire service investigators said they believed the fire was accidental.
Wiltshire Fire Service said they were able to deal with the incident quickly because it occurred only weeks after they carried out a drill which familiarised them with the prison's layout.
Station officer Darren Nixon, who was in charge at the scene, said: "One of the reasons for carrying out the exercise in January was to allow crews to familiarise themselves with the issues that may arise if there was an emergency situation at the prison.
"The incident today has allowed us to apply that knowledge to the benefit of all concerned."
The inmates from the affected block have been transferred to another part of the jail.
Erlestoke is a low security category C prison, holding around 500 men.