Marine from Warminster died days after colleague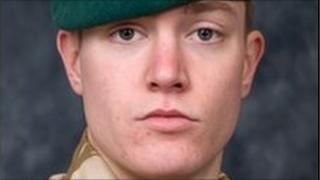 A Royal Marine from Wiltshire died just two days after another member of his company was killed, an inquest in Swindon was told.
Anthony Hotine, of Warminster, triggered a mine in Sangin, Afghanistan, in 2 June, last year.
His 40 Commando comrade Marine Scott Taylor died in a similar explosion on 30 May.
Marine Hotine was "at the top of his game" and "a brilliant young man", his patrol leader told the hearing.
Sgt Danny Pea, added that Marine Hotine - known as Tino - was "a very good friend of mine while we were over there.
"We shared accommodation and he was my signaller.
"To be honest, I never had a wrong word to say about him. He was a very good member of the team."
Second tour
The inquest heard Marine Hotine was on patrol, walking behind two marines using metal detectors to try to find homemade bombs when the blast that killed him took place.
Sgt Pea said it was clear immediately that Marine Hotine was very seriously injured.
A post mortem examination revealed that he would have become unconscious and died rapidly from blast injuries.
Lt Col Sean Brady, who commanded the company, said: "We cannot avoid every single device that is out there and sometimes they succeed in targeting us."
Marine Hotine, who was unmarried, was born in Torquay, Devon, but grew up in Warminster, where his father served as a Sgt Maj in the Army.
He was on his second tour of duty in Helmand Province and had told his commander that he was hoping to serve a third stint in the war zone.
Coroner David Ridley recorded a verdict of unlawful killing in the case.