Afghanistan troops return to Wiltshire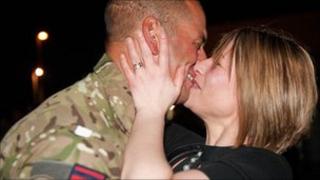 More than 100 soldiers from the Wiltshire-based 22 Engineer Regiment have returned home from a six-month tour of Afghanistan.
The 120 members of 5 Armoured Engineer Squadron were deployed in September to support British, Afghan, Danish and US Army troops in Helmand Province.
More than 150 family members and friends welcomed them home to their barracks in Perham Down, Tidworth.
Maj Dave Bickers said the squadron had "performed exceptionally".
Cpl Neil Coleman, 26, had not seen his son who is nearly six months old, since Christmas.
His wife, Karmel, 22, from Andover, Hampshire, said: "Max has changed so much and it is time for him to get to know his dad.
"It's been difficult with Neil away - not looking after Max - but being strong for him.
"My mum and dad have been wonderful and have really, really helped out and I couldn't have done it without them."
The squadron, which was deployed in September, has been attached to 23 Engineer Regiment (Air Assault), normally based in Woodbridge, Suffolk.
The regiment will return to normal military training on Salisbury Plain.