Soldier hurt in Wiltshire Army Land Rover crash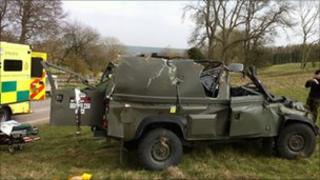 A soldier has been airlifted to hospital after the vehicle he was in crashed during a training exercise on Salisbury Plain.
Emergency services received a call from Westdown Camp near Tilshead at about 1240 GMT.
An ambulance service spokesman said the Army Land Rover came off a track and rolled several times.
The passenger, believed to be 18, injured his back and was taken to Salisbury District Hospital.
The Great Western Ambulance Service spokesman said the driver and another passenger suffered minor injuries were treated at the scene by Army medics.
It is thought they were preparing for a deployment to Afghanistan, he added.