Melinda Messenger opens Swindon breast screening centre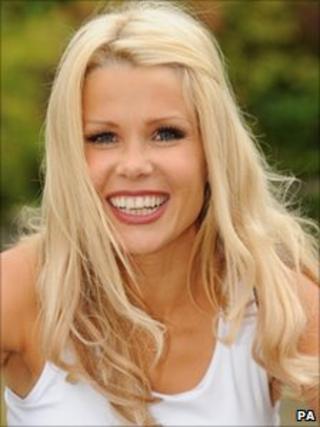 Model and TV presenter Melinda Messenger has opened the new breast screening centre at Swindon's Great Western Hospital.
Equipment at the £1.6m centre includes a Stereo Biopsy Unit, which enables faster and more accurate sampling of suspect areas.
Two mobile units will also offer routine screening across Wiltshire.
Ms Messenger, 40, who is from Swindon, said: "It's something that's important for all women."
'Valuable service'
She continued: "If you've got a mother, a sister, an auntie or a daughter who has suffered with this disease I don't think for a second you'd ever quibble over the money spent.
"I think it does provide a really valuable service for women."
Stereo Biopsy Units enable radiologists to remove samples of suspicious tissue with a needle for examination.
Consultant breast surgeon Marcus Galea said: "It [the centre] is a great facility in that it's brought the surgeons and the radiologists together. The benefit of that is that the patient gets a much better deal.
"Eighty per cent of the patients who come through the unit are able to have all their imaging, all their assessment in one visit.
"For most patients fortunately the news is good and they can be discharged without second or third follow-up visits.
"This isn't just about breast cancer, it's a breast centre. It's about well women as well as patients with cancer."