Dog teams to join search for missing Sian O'Callaghan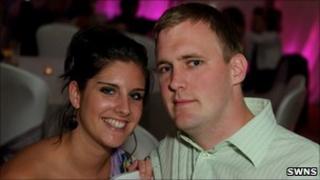 Specialist dog teams are being brought in to help search for a woman missing since she left a nightclub in Swindon at the weekend.
Police have said they are "very close" to identifying the whereabouts of Sian O'Callaghan, 22, who has not been seen since the early hours of Saturday.
Search experts have been examining "hotspots" in the 4,500-acre Savernake Forest, near Marlborough in Wiltshire.
About 200 people attended a vigil for Miss O'Callaghan on Wednesday night.
A signal from her mobile phone was picked up from Savernake Forest, which suggested she had been in the woods 34 minutes after she was seen leaving the Suju club at 0252 GMT on Saturday.
Public help
The office administrator had left the club to embark on her half-mile (800m) walk home to the flat she shares with boyfriend Kevin Reape, 25.
But police said the journey to the forest could only have been made by car.
Hundreds of members of the public assisted police search teams on Tuesday, but on Wednesday detectives using mobile phone technology enabled the search to be narrowed down.
They said it had pinpointed several areas of interest to the police and had enabled large parts of the forest to be ruled out of the search.
Supt Steve Fulcher, who is leading the investigation into the investigation for Wiltshire Police, said: We have made good progress in narrowing the search using a number of technologies and techniques and I believe we are getting very close to identifying Sian's whereabouts."
He said the search would be limited to daylight hours and would be assisted by dog teams on Thursday and that the force was not asking for any more public assistance at this stage.
But Mr Fulcher appealed for anyone with any information to contact police.
Ch Supt Steve Headley said Miss O'Callaghan's family were coping "as well as you or I would in these situations".
"It must be awful for them," he said.
Reward offered
Her friends and her boyfriend joined the search on Tuesday along with coach loads of local people - many of whom did not know the missing woman - after a police appeal for help.
A £20,000 reward to help find her has been offered by an anonymous donor.
Miss O'Callaghan had an LG E900 Optimus mobile phone and police have asked for anyone who finds one to contact the force.
A vigil and prayer service was held for her at St Barnabas Church in Gorse Hill, Swindon, on Wednesday evening.
About 200 people of all ages came together for the service and worshippers were able to light candles and say private prayers.
More than 60 police officers are working on the investigation which is being treated as a missing person inquiry.