Wiltshire College students design battle simulator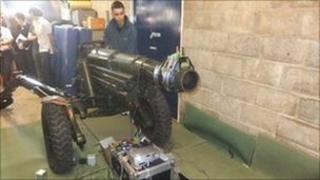 A group of students at Wiltshire College in Chippenham have been playing virtual games to help the British Army.
The Royal Artillery School at Larkhill has asked them to build a computerised battle simulator using military equipment.
It is designed to allow soldiers to practise without live ammunition before going out into the field.
It could replace the current, expensive training facilities such as static simulators and live firing.
Wiltshire College lecturer Bob Wilcox, who is leading the research, said: "Static simulators are really just one block in one place, and can only simulate so far.
"Live firing has all the health and safety costs of actually doing live training associated with it.
"This is just another way of looking at a possible solution to help them with the training of their personnel."