Donavan Van Lill murder accused 'confessed', court told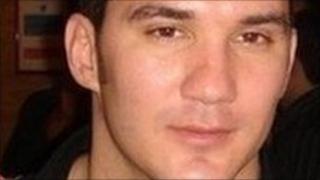 A swimming instructor accused of murdering his friend "confessed" to the killing, a court has heard.
South African Donavan Van Lill, 29, who lived in Chippenham, Wiltshire, was last seen on 3 March last year. His body has not been found.
Martin David Sugden, 42, of Clanville Bar, Stanton St Quinton, denies murdering him.
Jerrard McKay said Mr Sugden told him he killed a South African man he had been on holiday with.
The court had previously heard how Mr Sugden had gone on a three-week holiday to South Africa in 2006 with Mr Van Lill and another man called Mark Rogers.
Mr McKay, who said Mr Sugden often worked for him and gave his daughter swimming lessons, told how three years ago the defendant told him how he was going to kill a man he had been on holiday with.
He told the court: "It freaked me out. It made me feel very uncomfortable".
He said that after the disappearance of fitness instructor Mr Van Lill he got a phone call from Mr Sugden who told him "I have done it".
Under cross-examination Mr McKay denied he had felt guilty about not going to the police earlier after Mr Van Lill's disappearance or that he had assumed the swimming instructor was guilty.
The trial continues.