BBC Wiltshire presenter Sandy Martin's funeral date set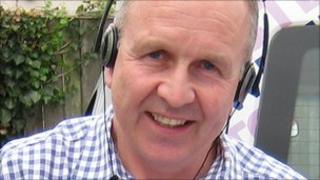 The funeral of BBC Wiltshire's Sandy Martin will be held at Christ Church in Swindon's Old Town on 6 April.
The popular presenter died on Thursday 17 March at the age of 53 after being diagnosed with a brain tumour.
The funeral service, which will take place at 1330 BST, will be open to all and followed by a private committal.
His wife Sarah said that she had been "overwhelmed" by messages of support from the public after her husband died.
She said: "Sandy was my wonderful husband, and best friend, and the very special daddy of our two beautiful children.
"He was loved so much by his family and close friends, and our world feels so empty without him. We are so proud that so many people in Swindon and Wiltshire got to meet Sandy, and that he touched so many people's lives whilst doing the job he loved.
"The funeral service at Christ Church will be an opportunity for them to pay their respects."
On the day, the cortege will pass the home of BBC Wiltshire at Prospect Place en route to the Church, pausing for a moment of reflection.