Sian police search fields for her missing handbag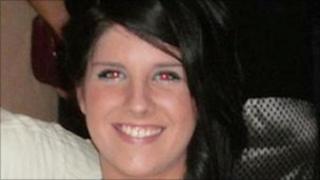 Police looking for Sian O'Callaghan's missing handbag have started searching fields in Oxfordshire, close to where her body was found.
They are combing the Claypits Lane area of Uffington for items belonging to the murdered 22-year-old, who was found dead on Thursday.
The items still missing include her DKNY watch, car key and house key.
Police investigating her death finished recovering the body of another woman in Eastleach, Gloucestershire, earlier.
A 47-year-old taxi driver, Christopher Halliwell, appeared before Swindon magistrates on Monday charged with the murder of Miss O'Callaghan.
He was remanded in custody to appear before Bristol Crown Court on 30 March.
Miss O'Callaghan disappeared after leaving the Suju nightclub in Swindon a week last Saturday following a night out with friends.
In separate developments, Wiltshire Police said they were still working to identify the second body.
A police spokesman said that if they could not get a DNA match for the Eastleach body on their database, identification would take longer.
The remains are thought to be those of a woman aged between 23 and 30.