Clergy in Salisbury get specialist wedding training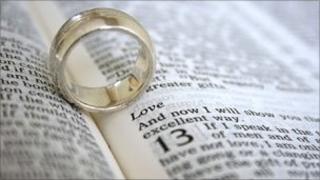 Wedding training is being given to vicars in the Salisbury Diocese to try to boost church bookings.
Clergy from the 50 parishes who conduct the most weddings will attend a two-day course in Salisbury in April.
"There will be practical exercises and roleplay," said the Rev Jonathan Ball, Chaplain to the Bishop of Salisbury.
"The venue will also be set up with circular tables to make it feel like a wedding reception - so that they can step into the shoes of the couples."
The course, which includes sessions on "meeting the couple", "fees and charging for a wedding" and "positive characteristics of good vicars", has been organised to promote the church as the best place to get married.
'Less attractive' churches
Since 1995, when the law changed allowing civil ceremonies to be performed in places such as castles and hotels, fewer church weddings have taken place.
In the Salisbury Diocese 49 of the diocese's 356 parishes conducted wedding services in 2008 with the Heytesbury Church in Westbury performing the most with 28.
Many of Wiltshire's most rural and "less attractive" churches had no wedding bookings in 2008.
Now with the rules relaxed about who can get married in church, members of the Salisbury Diocese are being asked to take a fresh look at how they go about weddings.
"The Church of England is vastly experienced in its marriage ministry, and most couples value the role that clergy play in their big day," said the Bishop of Sherborne, Dr Graham Kings.
"But until now the Church hasn't done much to understand the importance of weddings in our wider mission, or to provide appropriate resources.
"We hope that by training those who conduct the most weddings, we'll make the most of this opportunity to give couples a fantastic wedding day."