Bradford on Avon mushroom farm cave tenants sought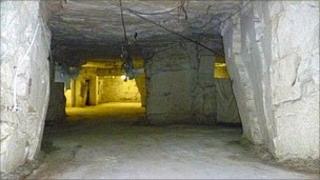 A cave underneath a Wiltshire town which has been used for growing mushrooms for more than a century is available to rent.
Bethel Quarry, a 10-acre mine beneath Bradford on Avon, has been described by estate agents as a "rare opportunity" to rent space for "unusual uses".
Up until the end of the 19th Century the "large and historic stone quarry" was a working quarry.
But since the start of World War II it has been used for growing mushrooms.
The cave has a constant temperature, humidity and a lack of light, which makes it an ideal location for a commercial mushroom farm.
Estate agent Suzanne Drewett said it had been used by Oakfield Farm Products for the past decade and before that had been used by Heinz to grow mushrooms for its mushroom soup.
She said the cave's latest tenants had been moving their business to Evesham, in Worcestershire, and the site had been closed up since September.
Worm farm
The cave boasts mains power, water and sewerage and is available to let "for a term of years to be agreed" at what the estate agent calls "a negotiable rate".
"We put it online in February before I went on holiday for a week," said Ms Drewett.
"When I came back there were over 30 enquiries and since then we've been bombarded with well over 100."
She said they had received a "real mixture" of people interested.
"One person was interested in setting up a non-messy paint balling game and someone else was interested in a worm farm," she added.
"But it's so unusual, it is going to be hard to put a specific price on it."