Wiltshire and Swindon's high sheriff sworn in Salisbury ceremony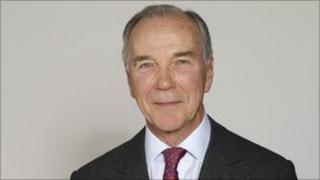 A new high sheriff has been sworn in for Wiltshire and Swindon in a ceremony dating back to Saxon times.
Robert Hiscox, who is chairman of insurance company Hiscox Ltd, made his declaration and acceptance at Salisbury law courts on Saturday.
He takes over the role from Dame Elizabeth Neville.
The high sheriff is The Queen's representative in the county for matters of law and order and the judiciary.
Mr Hiscox said he was looking forward to his year's tenure in the position.
"I am delighted and privileged to be the High Sheriff of Wiltshire and Swindon... I love Wiltshire and am looking forward to discovering what goes on behind the scenes to make the county work as well as it does, and doing what I can to help." he added.