WOMAD festival booked for Derry City of Culture 2013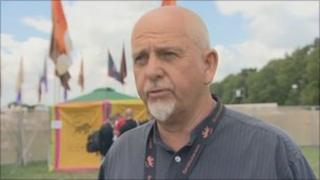 The WOMAD international music festival is to be held in Londonderry as part of the UK City of Culture 2013 celebrations.
The four-day festival attracts about 30,000 people every year.
The concert celebrates the World of Music Arts and Dance and has won a reputation as a festival for the whole family.
It was co-founded by Peter Gabriel and began in Shepton Mallet in 1982.
Since the first WOMAD festival, there have been more than 160 events in 27 countries.
The organisers say their aim is to create awareness of the worth and potential of a multi-cultural society.
Northern Ireland's deputy first minister, Martin McGuinness, is expected to announce further details later.