Swindon author inspired by internet dating experience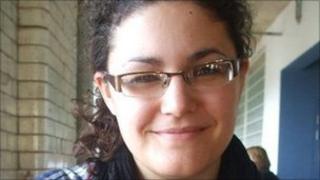 An aspiring author from Swindon has used her own experiences to write a book on the ups and downs of internet dating.
Girl Meets Boys is 26-year-old Louise Gibney's first book.
Miss Gibney started internet dating when she moved to a new area and thought it might be a good way to meet people.
Little did she know that some of the dates she went on would provide inspiration to put pen to paper.
Mistaken identity
Over the course of her internet dating journey, Miss Gibney met a con-artist, an illegal immigrant and a Chinese pilot to name but a few. There is even a story of mistaken identity.
"I caught the eye of a tall, dark-haired man loitering in the entrance of a bowling alley," she explained.
"He gave a half-smile and confirmed he was 'Dylan'.
"As I approached, I thought, he looks a bit older in the flesh, but it was too late now. 'You must be Dylan' I said. 'Yes', he replied and we began walking into the bowling centre.
"Just I was planning my get-out excuse, I felt a tap on my shoulder. 'Dylan' carried on walking in and I turned to see who wanted my attention.
"It was Dylan, the real Dylan, the photo fit was perfect. Definitely younger than the impostor that was leading me away.
"I don't know what he was thinking."
Miss Gibney thinks internet dating is becoming more mainstream. She said: "I know lots of people who have made online dating work and even got married as a result."
Her own internet dating journey was not all bad either, she met her current boyfriend two years ago via an online dating site.
But it was after reflecting on some of her more unusual dating experiences that she decided to write her book.
Miss Gibney is currently trying to interest publishers in Girl Meets Boys. In the meantime, it is featured on the online magazine LayStar's homepage and is being serialised in MK Pulse magazine.
She now lives near Milton Keynes where several local newspapers including the Northampton Chronicle and Echo, Milton Keynes Citizen and the Dunstable Gazette have written articles on her search for a publisher.
She said: "I'm working hard to market my book and I really want to make it a success."