Duchess of Cornwall to hear Burma Railway prisoner talk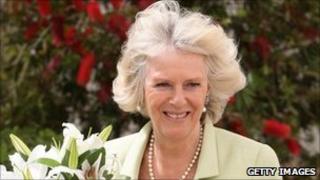 The Duchess of Cornwall is due to visit Wiltshire and attend a lecture by a former prisoner-of-war from Somerset.
Jack Chalker, 92, was sent to work on the Burma Railway, called the "railway of death", after being captured by the Japanese in Singapore in 1942.
The duchess will also meet volunteers from the Wiltshire Bobby Van Trust.
She is patron of the charity, which provides a home security service for elderly, vulnerable and disadvantaged people.
Mr Chalker, who lives near Wells, was a student at the Royal College of Art in London when he was called up to reinforce the beleaguered Singapore garrison.
He was captured, with 137,000 comrades, when the garrison surrendered in 1942, and was sent to the Kanvu river to work on the notorious Burma Railway.
He is due to give a charity lecture and present his artwork from his time there at the event in Calne.