Royal wedding: Milliner makes 50 hats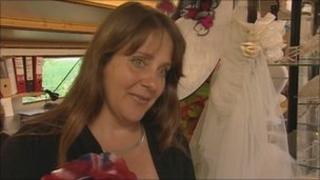 A Wiltshire milliner has been working to meet a rush of orders for hats from royal wedding guests - including the Royal Family and the Middletons.
Vivien Sheriff's team of eight work from a studio based in converted farmhouse buildings in rural Downton.
She said at least 50 of their creations would be seen adorning heads at Westminster Abbey on Friday.
Ms Sheriff also created the fascinator worn by Kate Middleton on her first official engagement in Anglesey.
The 45-year-old hat-maker started her business seven years ago, after developing a "passion for millinery" while working in textiles trading.
She describes her work as "individual pieces of art", sometimes inspired by the Wiltshire countryside.
"It's particularly beautiful, the colours outside, the rolling Wiltshire hills," she said.
"It is inspiring. You want to create beautiful things when you're in a beautiful area."
Worldwide audience
Heads of state, political and religious leaders, charity bosses and sport and entertainment celebrities are among the 1,900 guests invited to the wedding between Prince William and Kate Middleton.
Ms Sheriff said she "couldn't wait" to see her creations.
"It's definitely 50 pieces that we know about [for the wedding], but of course lots of our pieces go into the shops and big stores, so and we don't know who's going to wear them, so there's that element of surprise on the day," she said.
Ms Sheriff would not be drawn on newspaper speculation that the bride's mother, Carole, would be wearing one of her designs.
"I'm just really sworn to secrecy and I don't talk about who's been here, but I can tell you that we've made lots of pieces for various members of the Royal Family and some of the Middletons," she said.
Ms Sheriff said it had become "manic" with television crews from the US, South America and Germany converging on the studio to film her work.
"The impact on a relatively small business is huge," she said.
She added that with growing interest in hat-wearing for occasions - particularly from overseas - millinery businesses like hers could expand.