Devizes house fire was 'started by laptop'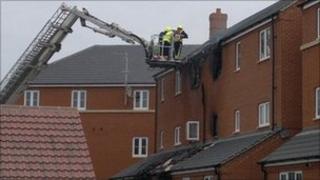 A fire which badly damaged a house in Devizes and led to the death of a pet dog was started by a laptop computer, fire investigators have said.
Wiltshire Fire and Rescue was called to the three-storey home in Keepers Road, London Road, at 0800 BST on Wednesday.
A teenage boy escaped by jumping from a second floor window on to a roof.
"The fire was able to spread and affect his escape route as a result of internal doors being left open," a fire service spokesman said.
Fire investigators believe the laptop had been left on charge.
Plugged into mains
"Unfortunately, laptops can overheat, especially if left plugged in for any length of time. It is best to charge your laptop while using it, and then switch it off.
"Some electrical items, such as fridges and freezers, are designed to be plugged into the mains at all times.
"Other items, such as televisions, microwaves, phone chargers and MP3 players should always be switched off when not in use.
"We also recommend not running washing machines, tumble dryers or dishwashers overnight, and switched off at the mains when not in use," he added.
All three floors of the house and the roof space were affected and firefighters were at the scene for four hours.
The other occupants of the house managed to escape safely.