One dead in gyrocopter crash near Wiltshire airfield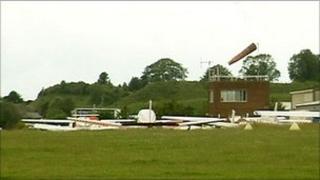 One person has been killed in a gyrocopter crash near an airfield in Wiltshire, Great Western Ambulance Service has said.
Emergency services were called to a field close to Old Sarum airfield just after 1230 BST.
Wiltshire Fire Service said the craft was engulfed in flames after the crash.
An airfield spokesman confirmed there had been a crash and the ambulance service said crews which had been en route to the scene had been stood down.
A Wiltshire Fire and Rescue Service spokeswoman said: "When crews arrived they found a gyrocopter well alight.
"Crews worked with the airfield fire service to extinguish the blaze."
A gyrocopter - or autogyro - is a small, helicopter-like aircraft which generates lift using a free-spinning rotor.
Pilots require a licence and must fly in daylight, within sight of the ground, more than 500ft from other vehicles and buildings.