Former headmaster attends royal wedding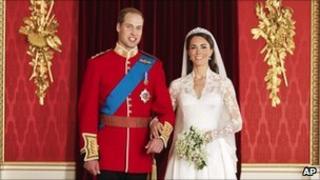 The former headmaster of Marlborough College where Catherine, Duchess of Cambridge, studied has been a guest at her marriage to Prince William.
Edward Gould said the duchess had been an "outstanding" student at the Wiltshire college and that it was "a surprise" to receive the invite.
The bridesmaids' dresses were handmade by a designer from Marlborough.
More than 80 roads were closed across the county for parties in celebration of the royal couple's wedding.
Speaking before the wedding, Mr Gould said: "She was a popular girl but she was actually understated, feet very much on the ground.
"She never made a lot of noise about her achievements, which were very considerable, amongst the pupil population.
"The invitation was a surprise. I was delighted."
Gold sashes
The bridesmaid's dresses were made by childrenswear designer Nicki Macfarlane and her daughter Charlotte at their homes in Wiltshire and Kent.
The dresses - ivory with ballerina-length pleated skirts, puff sleeves and gold sashes tied in a bow - were worn by Lady Louise Windsor, Margarita Armstrong-Jones and three year-olds Grace van Cutsem and Eliza Lopes.
Ms Macfarlane said: "I couldn't be more proud to have been part of this wonderful day.
"I am thrilled and honoured to have been asked to design the bridesmaids' dresses for the royal wedding."
A spokeswoman for Ms Macfarlane's small family business said they had been contacted a few months ago about designing and making the dresses.
She said: "It has been very exciting.
"Catherine has been incredibly involved in the design process and has had a big say."
The car that took the duchess to Westminster Abbey on her last drive as Miss Middleton also had a Wiltshire link.
John Dobson from Melksham was responsible for painting the three crests on the car.