Wiltshire farm offers reward for return of golden goat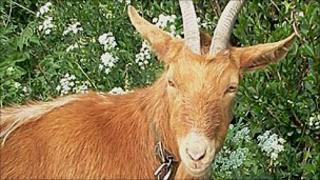 A £1,000 reward is being offered in an effort to catch those responsible for stealing a goat from a Wiltshire farm.
Seeka, a golden Guernsey, was taken from her pen at River Bourne Community Farm in Laverstock on Saturday night.
David Law, a farm committee member, said Seeka was so friendly she would have been easy to steal.
"We have rather grainy CCTV footage of her being stolen and it would appear that they've physically lifted her up and taken her back to a van."
He added: "And Seeka, bless her, has got such a good temperament she wouldn't have put up a struggle."
'Mother distraught'
Staffed by volunteers, the working farm encourages schools and colleges to visit and learn about farming and livestock.
It managed to acquire two of the rare breed of goat, a mother and daughter, last year.
"The volunteers are extremely upset to the point that one of them has put up a £1,000 cash reward for her safe return," said Mr Law.
"And her mother Sophie is absolutely distraught and pining for her daughter.
"So I do hope that she is found safe and well and returned to the farm."
Two-year-old Seeka is described as being a brilliant ginger/golden colour with a slight white streak along her back.
An anonymous donor has put up the £1,000 reward for information leading to the successful conviction of the offender.