Wiltshire kayaker's Olympic gold hopes in new race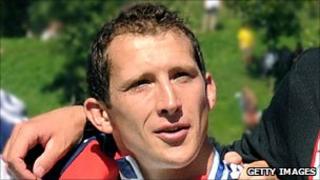 A Wiltshire athlete has become a gold medal contender in a newly created Olympic discipline.
Ed McKeever, who competes for Bradford on Avon Canoe Club, is the current World and European Champion in the men's kayak 200 metre single class.
The 27-year-old's focus had been the 500 metre race until it was dropped from the Olympic programme in 2009.
Within 10 months of a "shift to the shorter and more explosive distance" the canoeist was the World Champion.
"I just want to thank whoever made the 200m an Olympic discipline," he said.
"It got introduced to the calendar at the end of 2009 so last season was our first season.
"So, obviously coming away with the European and world championship is pretty successful for me."
'Europe-dominated'
Mr McKeever, who has paddled for Bradford on Avon Canoe Club since 1995, is currently based at the 2012 Olympic race venue of Dorney Lake in Berkshire.
Training up to four times a day, six days a week, he hopes to cement his status as one of Great Britain's "best hopes" for an Olympic Gold medal, ahead of London 2012.
"At the world championship last year I won it by 0.3 of a second, which is almost half a boat length," he said.
"So, I'm putting in the training so hopefully I can get a little bit more of a comfort gap."
"It's mainly a European dominated sport at the moment and so hopefully I can keep top of the pile."