Help needed to re-chalk one of Wiltshire's white horses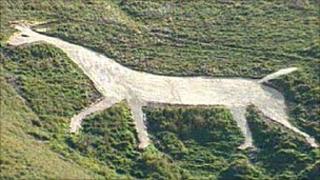 A restoration group is appealing for volunteers to help re-chalk one of Wiltshire's oldest hill figures.
The Cherhill White horse, cut into the Marlborough Downs, is owned and maintained by the village of Cherhill.
The 232-year-old hill figure underwent a major facelift in 2002 after losing both its whiteness and its horse shape.
Since then the 18th Century landmark, the second oldest in the county, has required a "re-chalking" every two years.
"It had been continuously scraped to reveal fresh chalk but that left a three foot cliff at the top of the horse," said the restoration group's chairman, Rob Pickford.
"Now we top it up with extra chalk to level it with the surrounding ground."
Yellow horse
The horse, one of nine such monuments in the county, requires up to 10 tonnes of chalk to restore it to its former splendour.
The chalk, funded by donations from visitors to the Downs, is being "brought in" after the last chalk quarry in the county at Mere closed down.
"The first top dressing we did we got the chalk from Somerset," said Mr Pickford. "It was very yellow with bits of grey flint in it so we ended up with a yellow horse with grey spots. This year we're getting it from a quarry in Hampshire."
Natural erosion from the weather is normally responsible for the discolouring of the ancient monument.
However, this year's unusually dry and sunny conditions have "bleached the chalk".
"It's looking quite white at the moment but in February it was looking particularly grey," said Mr Pickford.
"And some of the boards used to hold the chalk in place have become exposed, so it does need top dressing."
The re-chalking is due to take place on Saturday 14 May and is expected to take up to six hours.
Volunteers are being asked to meet at the Black Horse car park at 9:30 am "armed with spades."