Tropical plant flourishes in Wiltshire's warm weather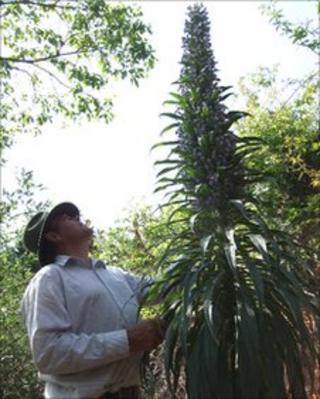 The unusually warm weather this spring has seen an unusual tropical plant spring up in a garden in Wiltshire.
Terry Baker, 53, from Atworth who runs his own botanic nursery, has seen his Giant Viper's Bugloss (echium pininana) plant grow to more than 13 ft (3.9m).
The plant is native to the Canary Islands and seldom grows to great heights in the UK due to the climate.
Mr Baker said: "The sunshine encourages things to flower naturally anyway and this heat is making it go bananas."
"These things are occasionally seen in Cornwall but it's very unusual to see them flowering in Wiltshire, certainly at this time of year, and I think it's just a response really to this quite remarkable spring that we're having."
The plant is endangered due to habitat loss. Once it has flowered it will die and scatter its seeds.