Extra funds could pay for tackling Bristol riots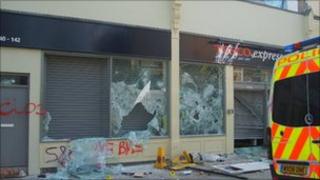 Extra government funds may be given to police to help pay for tackling riots in Bristol.
A disturbance began in Stokes Croft over the Easter weekend after officers raided a squat because they feared a nearby Tesco was to be petrol bombed.
Kerry McCarthy, the Labour MP for Bristol East, raised the issue in the Commons earlier.
Policing Minister Nick Herbert said the Home Office would consider any request for extra financial help.
About 300 demonstrators were embroiled in running battles with police on 21 and 22 April.
'Difficult job'
More than 160 officers from Avon and Somerset Police and neighbouring forces were involved in the operation. Eight police officers were injured during the clashes.
Bins and skips were set alight and a newly-opened Tesco Express store was attacked and damaged.
Ms McCarthy visited the scene in the early hours of 22 April after reading reports of the disturbances on Twitter.
Another protest took place in Stokes Croft a week later.
It started peacefully, but turned violent. Officers and protesters were injured after rocks and missiles were thrown.
In the Commons on Monday, Ms McCarthy said: "The Avon and Somerset Police have had a very difficult job to do recently, policing disturbances in the city.
"What help can the department give to the police force now, as they try to rebuild relationships with the community?"
She added that the cost of policing over the bank holiday was "absolutely astronomical".
Mr Herbert praised the police operation and paid tribute to officers who had been injured.
"There are established procedures whereby forces can apply if they have incurred special costs, and the force knows how to deal with them."
An Avon and Somerset Police spokesman said it welcomed the comments after what has been a "challenging time".
"We are currently pulling all the costs of the operation together and will actively explore the possibility of financial assistance from the government to help meet them," he added.
Nine people have been charged with offences relating to violent disorder.
Stephen Farthing, 32, of Stokes Croft, is due to be sentenced at Bristol Crown Court on 17 May after he admitted violent disorder in relation to the first disturbance.
A 17-year-old youth from Bishopsworth, Bristol, has been charged with wounding with intent, violent disorder and theft.