'Tankies' return to Tidworth barracks from Afghanistan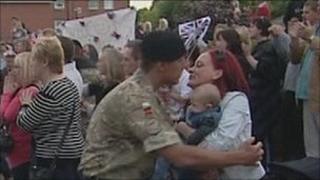 Soldiers from the Army's 2nd Royal Tank Regiment are back at their Wiltshire base after six months in Afghanistan.
About 120 members of Badger Squadron were reunited with their families at Tidworth barracks on Saturday.
The return of the "Tankies" marks the end of the regiment's deployment across Helmand province.
They have been involved in fighting insurgents, patrolling towns and villages, repairing schools and mentoring the Afghan National Police.
None of the regiment's 300 personnel was killed during the operation and some of those who were wounded in the line of duty in Afghanistan are expected to join their comrades in Cyprus for a period of rest and recuperation.
Major James Cameron said: "We've seen incredible process from the start of the tour to the end. Big bits of Helmand are transformed, both security sector-wise and in all of the other lines of development it really feels you've achieved something.
"But it's lovely for us to be back in Tidworth and back in the regimental family after having been away for such a long time."