Climber set for 'oldest Briton' on Everest north ridge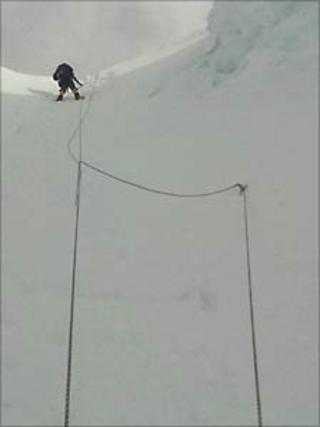 A 61-year-old from Wiltshire is hoping to become the oldest Briton to conquer Mount Everest via the north ridge.
Simon Knighton from Aldbourne is currently at the Tibetan base camp, waiting for a weather window to make his attempt on the summit.
If successful he claims he will be the second oldest Briton to climb Everest after Sir Ranulph Fiennes conquered it from the south side in 2009, aged 65.
"It's a nearly nine kilometre hike up into the sky," said Mr Knighton.
"Everest has been my dream ever since I was a child and if I am successful I will be the oldest Briton to summit Everest via the north ridge."
Mr Knighton, who is hoping to raise £100,000 for Age UK and St Michael's Primary School in Aldbourne, set off on his "biggest mountaineering challenge" at the beginning of April.
'Right weather'
He is currently based 17,060 ft (5,200m) above sea level at the bottom of Rongbuk Glacier on the northern side of Everest.
"We've been here at this base camp now for about 10 days or so, having initially gone up to 7,500m on to Mount Everest to acclimatise," he said.
"I'm with a young team, the average age is about 30 and I, at 61, am obviously the oldest but I feel like I'm holding up pretty well."
There have been several successful summits from the south side of Everest this year but none so far from the northern side.
Mr Knighton and his team are waiting for the "right weather" before they make their attempt.
"The best guess we have at the moment is that there may be a weather window sometime after 24 May," he said.
"If that is the case - it will take us five or six days from the time we get going to make the summit."