Swindon teams compete in Barcelona old banger car race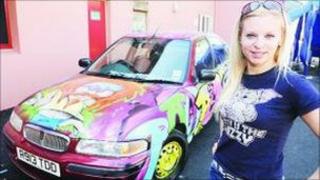 Two teams from Swindon are competing in an amateur 1,000 mile race across Europe in cheap, second-hand cars.
The Barcelona Bangers 2011 rally starts from Calais on Friday 20 May and will see the competitors travel across the Pyrenees to Barcelona.
Aaron Phull and David Wright are in one team, and Rosie Wareham, Catherine Thompson and Mark Newson in the other.
Between them they hope to raise money for the Muscular Dystrophy Campaign, Macmillan Trust and Whizz-Kidz.
Top Gun
Team one is nicknamed Top Goon and their Volvo V40 has been painted to resemble an F-14 fighter plane, as used in the film Top Gun.
Team two goes by the name of Fifth Dimension and their Rover 400 has been spray-painted with graffiti.
As part of the contest rules, the cars the must have cost no more than £200 to buy second-hand.
Mr Phull said "The Barcelona Banger Rally gives people the opportunity to do something they wouldnt normally do seeing as there are so many big expensive rallys out there."
Of her hope to raise money for the charities, Rosie Wareham said: "We're doing quite well at the moment, but we're still looking for more donations, so the more the merrier."