Velcourt fined after farm worker electrocuted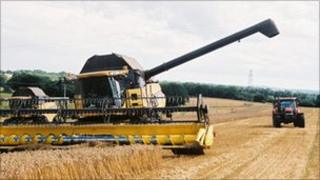 A firm has been fined £125,000 after admitting responsibility for the death of a man working on a Wiltshire farm.
Edward Pybus, 21, of Northallerton, North Yorkshire, was harvesting crops at Crystal Palace Farm, Ludgershall, when he was electrocuted in 2007.
The grain spout of the combine harvester he was driving had touched an overhead power line.
Farm managers Velcourt Ltd pleaded guilty to a health and safety breach at Salisbury Crown Court.
'No risk assessments'
A spokesman for the Health and Safety Executive (HSE), which brought the prosecution, said the combine harvester had a problem with the grain discharge spout so it was left extended while Mr Pybus was cropping a field on 6 August.
During cropping, the machine had picked up stones and soil so Mr Pybus stopped to clear it, not realising the spout was touching a power line.
As he stepped onto the ground he received a fatal shock of 6,300 volts.
The spokesman said their investigation found that Velcourt Ltd, based in Ledbury, Herefordshire, failed to adequately inspect, monitor, supervise or audit health and safety management at the farm.
The HSE also found that the company had failed to ensure the farm manager received adequate health and safety training.
HSE Inspector Liam Osborne said: "Velcourt chose to give Edward one of the largest and tallest machines on the market on his first ever commercial harvest operating a combine.
"No consideration was given at all to whether it could reach the overhead lines in the fields where he was electrocuted, or anywhere else for that matter."
Mr Pybus' mother, Rachel, said: "Edward was a wonderful young man, funny, vibrant, on the brink of his adult life with so many plans, hopes and dreams.
"He was to start a new job after the harvest and was hoping to set up home with his girlfriend. None of us can really believe he is gone.
"It is our hope this judgement will prompt the agricultural industry as a whole to improve working practices and endeavour to make farming safer."
Velcourt Ltd was also ordered to pay £45,000 in costs.