Four Wiltshire acts to play at Wychwood Festival 2011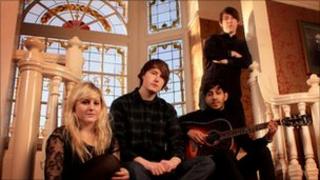 Four Wiltshire acts are to play at Cheltenham's Wychwood Festival in June.
Anchor and the Wolf, AJ, Tim Gilvin and Samuel Brookes were submitted to play the BBC Introducing stage at the 2010 festival by BBC Wiltshire Introducing.
It is the second year running that the festival has hosted a BBC Introducing stage, showcasing the best unsigned talent in the South West.
Festival Director, Sam Shrouder is "thrilled" BBC Introducing is involved once again.
"The standard last year was incredible. It was extremely popular," he said.
Panel of experts
The four Wiltshire acts were offered their places this year after being judged by a panel of music experts, including BBC 6 Music's Tom Robinson.
Zoe Mead, lead singer of Swindon folk four-piece Anchor and the Wolf said of being offered the slot: "It was such a boost for us when we found out we were playing Wychwood.
"We just love gigging, and to be able to do so on the BBC Introducing stage is a massive blessing for us and something we are very excited about."
Solo producer and songwriter, Tim Gilvin described the news as "a bit of a bolt out of the blue".
He said: "I went to the festival in 2006 and had an amazing time. You don't expect to just be called up and told you're playing just like that, it's amazing!
"I've just got to get practicing now so I can make the most of such a fantastic opportunity."
The Wychwood Festival 2011 takes place over the weekend of 3-5 June at Cheltenham Racecourse, and all Wiltshire acts are playing on Sunday on the BBC Introducing stage.
All the performances can be heard on BBC Wiltshire Introducing on Thursday 9 June from 7pm.