Swindon Honda extends half output due to parts problem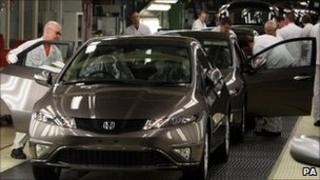 Honda is to continue halving production at its factory in Swindon for a further two months due to a shortage of parts coming from Japan.
The company said the 3,000 production staff would carry on working a two-day week in June and July.
The plant cut its output in April after the earthquake and tsunami in Japan affected its supply of components.
The workforce is to stay on full pay during this period, while building up a balance of hours to owe the firm.
A statement from Honda said: "We will continue on a reduced volume basis during June and July due to the ongoing parts interruption as a result of the impact caused by the Japan earthquake.
"Our workforce is fully aware of the situation as we keep them up-to-date on a very regular basis and during this period they will remain on full pay."