Auction for six-year-old Finlay Connor's bereaved family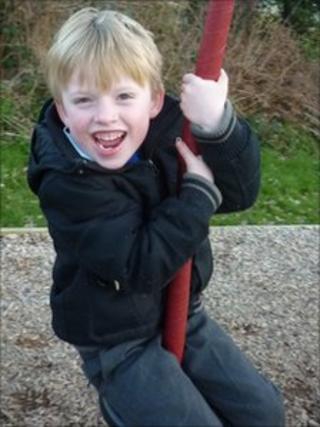 Friends and family of a six-year-old who died after being hit by a bus have started an online auction to raise money for his family.
Finlay Connor and his mother Nicola were struck by the vehicle outside Woodborough School near Pewsey, Wiltshire, in March.
In response to the death an auction has been set up to support the family "during an extremely difficult time".
All proceeds from the eBay auction will go to the Connor Family Fund.
"We didn't want to sit back and do nothing," said Stephen Higgins, one of the founders of the Connor Family Fund.
"It's a terrible tragedy and they're great people and so we just want to give them as much support as we can."
Harry Potter
Finlay's mother, who suffered multiple injuries in the collision, has recently been discharged from hospital.
Mr Connor "has put his own business on hold to focus on remaining strong for his wife and Louis, Finlay's three-year-old brother".
"I just can't imagine how they're coping - Niki obviously suffered significant physical injuries as well as the emotional trauma," said Mr Higgins.
"We just feel it's about reaching out and helping them and what Greg and Niki decide to do with the fund is entirely up to them."
The Connor Family Fund auction is due to run on eBay from 26 May for 10 days.
The 70-lot auction includes a signed Harry Potter premier poster and a football signed by the entire Chelsea team.