Residents move into £8.5m care home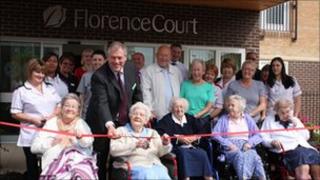 The first elderly residents have moved into a new £8.5m care home in Trowbridge, Wiltshire.
Eleven people who had been staying at the Paddocks care home moved into Florence Court, which opened on Monday.
The development, in Rutland Crescent, has 40 two-bedroom flats, which are available for rent or shared ownership.
A new facility specialising in dementia care will be built on the site of the Paddocks, which was declared no longer fit for purpose.
Florence Court, which was part-funded by the Department of Health, was developed by the Bedfordshire Pilgrims Housing Association with care provided by The Orders of St John Care Trust.
Wiltshire Council is spending an extra £34m on adult social care over the next five years.
A spokesman for the authority said an ageing population and people living longer were the reason for the increase.
John Thomson, Wiltshire Council's cabinet member for adult social care, said: "This is the first of a number of developments which the council and its partners will deliver over the next 10 years to help older people live as independently as possible."