David Hempleman-Adams given aviation award at palace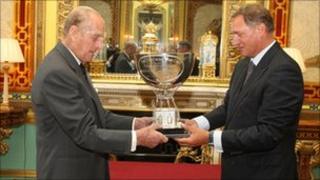 Explorer David Hempleman-Adams has been presented with a prestigious aviation award by the Duke of Edinburgh.
The award is from the Royal Aero Club - the national co-ordinating body for air sports across the UK.
The explorer, of Wiltshire, was the first person to reach the geographic and magnetic north and south poles and the seven continents' highest peaks.
Prince Philip, who celebrates his 90th birthday on Friday, made the presentation at Buckingham Palace.
Among Mr Hempleman-Adams' ballooning achievements is the record for staging the highest formal dinner party, set in 2005 at 24,262ft in a specially-designed hot air balloon.
The Royal Aero Club was founded in 1901 as a club for balloonists and has member organisations covering activities from hang-gliding to parachute jumping.