Harry Potter church in Lacock vandalised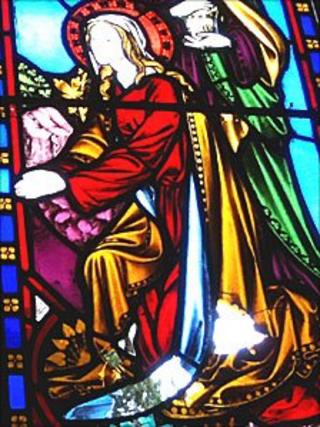 A Wiltshire church which featured in the Harry Potter films has had its windows smashed by vandals.
More than 30 stones were thrown at St Cyriac's Church in Lacock damaging 10 windows including a 200-year-old stained glass window.
The pre-medieval church has recently undergone a restoration project, costing £40,000.
Village residents said they were devastated their ancient church had been targeted.
"Two of the stained glass windows thankfully are protected by very fine mesh and so no stones were able to break those," said the Reverend Sally Wheeler, St Cyriac's minister.
"Unfortunately during some recent work the architect had taken away the very rusted mesh that had been protecting [one of the windows] so that window was vulnerable."
The vandalism was believed to have taken place on 26 May.
The churchyard of St Cyriac's featured briefly in the first Harry Potter film as the graveyard of "Godric's Hollow".
It was also the venue for the wedding of Laura Parker Bowles, daughter of Camilla Duchess of Cornwall, in 2006, which was attended by Prince William and his then girlfriend Kate Middleton.
"I know the vast majority of the people in the village are upset, bewildered, devastated all those things by what has happened," said David McDowell, a Lacock resident.
Wiltshire police are investigating the incident.