Swindon's insects studied as part of a £1.3m project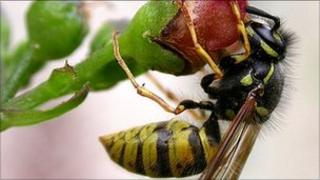 Bees, flies and other pollinating insects in Swindon's front gardens are being studied as part of a £1.3m research project.
The three-year project by Bristol University is studying the impact of urbanisation on plants and insects.
Gardens in a sq km area of Grange Park in Swindon will be studied by ecologists over the next few months
The fieldwork is the first stage in a three-year project to find out where pollinators are found in the UK.
Grange Park covers three types of habitat including city, farmland and nature reserve.
Teams of ecologists will sample plants and their pollinators in the area and study their interactions.
Urbanisation is thought to be one of the major causes of insect decline.
Professor Jane Memmott, who is leading the project, says however that "urban habitats are remarkably good for pollinators".
"Over 35% of hoverfly species known from the UK were recorded in a single garden in Leicester," said Professor Memmott.
"Honey bees produce more honey in urban Birmingham than in the surrounding countryside, and data gathered over the last decade in and around Bristol suggest there is no difference in the richness of pollinator species inside and outside the city.
"Our fieldwork will provide exact data on where pollinators can be found in the UK which will ultimately help to bring about more effective conservation management of these important insects."
The project, Urban pollinators: their ecology and conservation, will run until July 2014.