Bible-reading sessions in South Wiltshire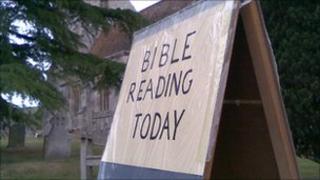 Parishioners of all ages have been involved in an event to read the King James Bible in south Wiltshire.
The parish of the Woodford Valley with Archers Gate took on the project via lay minister Sylvia Parrett.
She wanted to get as many people involved as possible.
"It's been extremely good. Even those people who've not been too comfortable with reading in church have read and we've also had pupils and staff from our two schools involved," she said.
"People have very much appreciated doing this and being a part of it.
"A revelation"
"As one member of the congregation said, it's been a revelation actually reading the Bible aloud and hearing it read aloud.
"It's much stronger than reading it to yourself."
Other people have also remarked on how spiritual an event it has been, according to Ms Parrett.
"Somebody said how lovely it was to read like this in church in a week in a state of peace and quiet, rather than surrounded by a service so that it made more contemplation possible," she said.
"It's very worthwhile and people have enjoyed it so much, and I don't think they realise how much they have gained from it. They felt they were helping but in helping, they have gained."