Olympic torch carried by Wiltshire man in 1948 on show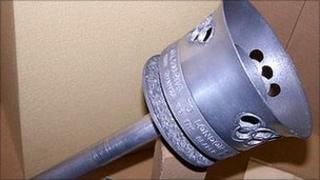 An Olympic torch carried by a Wiltshire man for the Olympic Games of 1948 has gone on display at Trowbridge Museum.
North Bradley resident, Major Rex Chapman, carried the Olympic flame through the town of Sherbourne in the first Olympic Games after World War II.
Made of aluminium, the torch was one of 1,688 torches designed and manufactured in the UK for the "Relay of Peace".
The torches were given as mementos to the 1,416 torch runners and it is not known how many are still in existence.
Due to the war the 1948 games were the first Olympic Games for 12 years.
Austerity Games
Organised in less than two years and with a budget of £730,000, the "cheap and cheerful" XIV Olympiad at Wembley Stadium was dubbed the "Austerity Games".
Medals were made of oxidised silver instead of gold and the Olympic torch was made of aluminium.
"It is actually quite a lightweight thing," said Claire Lyle curator at Trowbridge Museum.
"But of course this was just three years after the end of World War II and materials were not readily available.
"The country was basically bankrupt. They had no money and so it was very much done on the cheap."
The torch is inscribed with the words "XIVth Olympia to London with thanks to the bearer".
It was given to Maj Rex Chapman, a county level athlete, as one of the torch bearers to carry it the 1,964 miles (3,160 km) from Olympia in Greece to Wembley Stadium in London.
The torch is currently on display at the Trowbridge Museum.