Wiltshire's smallest school is to be shut down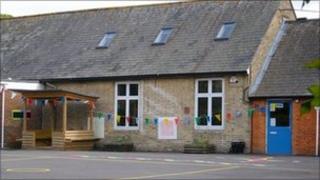 The smallest school in Wiltshire is to close in the summer because of dwindling pupil numbers.
Wiltshire Council approved the closure of the Grafton Church of England Primary School, near Marlborough, at a cabinet meeting on Tuesday.
The school has just 12 pupils and there have been no new applications for reception places in September.
Great Bedwyn Primary School has been named as the designated primary school when Grafton closes in August.
"There simply aren't enough children to make a viable school," said Chris Shepperd, director of education for the Diocese of Salisbury, which controls the school.
"There aren't enough children to go around the schools that we've got and that's the fact.
"There are over 100 spare places in the local schools and eventually one of those schools was inevitably going to close."
Pupil numbers at the school reached a peak of 35 in 2007, but have since declined.
A report by the Department for Children and Education said the decline in pupil numbers was "adversely affecting the quality of education".
Parent Karen Evans said: "My three older children went through this school and this school has done so much for two of my children because they had no confidence.
"We are absolutely mortified that we have to move."
In January it was decided that it was no longer possible to "sustain the school".
A six-week public consultation on the proposed closure produced just one objection from a potential local resident.
The primary school is due to close in August 2011.