Swindon Mechanics Institute owner sued by council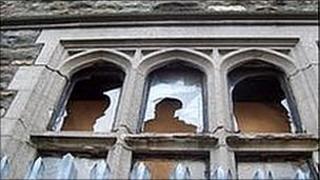 The owner of Swindon's Mechanics Institute is being taken to court by the Borough Council over money said to be owing for repairs to the building.
The authority carried out repairs to the roof of the Grade II* listed building, which has stood empty since the mid-1980s.
It claims owner, Matthew Singh of Forefront Estates, owes the authority more than £350,000 for the work.
Neither Mr Singh nor the council would comment further on the action.
Mr Singh, who has privately owned the building since 2002, agreed to a list of repairs required by the council in April 2010.
But after examining Mr Singh's plans, the council said it did not have reassurance that the work would be done to standard.
The council decided to carry out the work itself and recover costs at a later date, adding that the roof was in such a bad state it was in danger of collapsing.
Mr Singh has until 22 June to lodge a defence to the council's claim.
Daniel Rose, from the Mechanics Institute Trust, said: "I think the building's an incredible part of our local and national heritage.
"Therefore I think that it's important to make sure the building is saved and put to an appropriate use given its historic importance."