Glastonbury 2011: Man paid to wave Wiltshire flag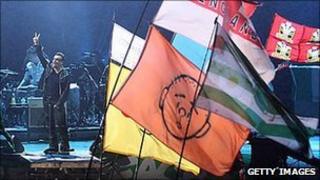 A Wiltshire festival goer was paid £100 to wave the official flag of Wiltshire at the Glastonbury Festival.
Matthew Tymus, of Trowbridge, was spotted on TV waving the green and white striped flag in front of the Pyramid Stage.
The web designer was set the challenge to "get it on TV" by Mike Prior, whose daughter designed it.
The flag, adopted in 2009, features a golden Great Bustard on a green and white striped background.
For the past four years, Mr Prior has been promoting the county flag, which was designed by his daughter, graphic designer Helen Pocock.
'Really interested'
The green and white county flag features the great bustard bird which was hunted to extinction in the UK until its reintroduction to Salisbury Plain in 2004.
To raise awareness, Mr Prior offered to refund half the cost of Mr Tymus's £200 Glastonbury ticket if the flag was seen on TV coverage of the festival.
During the five day festival, the 5ft (1.5m) by 3ft (0.9m) flag attached to a 20ft (6m) extending fishing pole was spotted in front of the Pyramid Stage during sets by BB King, Elbow, Coldplay and U2.
"I wanted to see a Wiltshire flag flying somewhere in front of the Pyramid Stage," said Mr Prior.
"I've seen the Cornish flag, the Devon flag and lots of other flags but no Wiltshire flag."
Mr Tymus said the flag had proved popular with other people at the festival.
"Loads of people were really interested," he said.
"It seems like everybody was coming up to me and saying: 'Oh wow, what's that flag? What's it about?'.
"There are more people who now know then they did two weeks ago."