Swindon and Wiltshire schools closed as teachers strike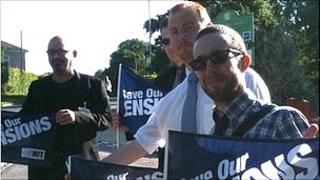 More than 100 schools across Wiltshire were closed due to strike action by two teaching unions over pension plans.
The action was taken by the National Union of Teachers (NUT) and the Association of Teachers and Lecturers.
Civil servants from the Public and Commercial Services union also took part in protests over the proposals.
At least 44 schools in Swindon were affected and 63 schools in the rest of Wiltshire. Rallies were also organised in Swindon and Chippenham.
'Now or never'
Pete Smith, from the Swindon NUT, said: "The great majority of Swindon teachers in the NUT and ATL are taking strike action to defend our pensions.
"The threatened changes will mean at least £60 disappearing from salaries each month.
"Members feel it is now or never in terms of defending their pension."
Conservative MP for Devizes, Claire Perry, has questioned the number of teachers wanting to strike.
"A small minority of union members in all cases have actually voted to strike," she said.
"I think only one in four of teachers have voted for a strike but I think even within union membership there's a sense that this pension reform is something we really need to take seriously."
Conservative MP for Swindon South, Robert Buckland, has criticised the action.
"It's causing massive disruption to millions of people," he said.
"I think it's sending the wrong message that at a time when all of us have to accept that the population is aging and all of us have to take a fair share, that this is an inappropriate response today."