Five female priests from Wiltshire to be ordained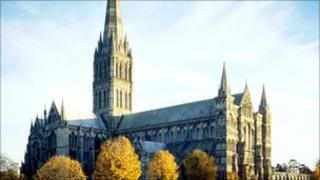 Five women from Wiltshire will be ordained as priests on Saturday.
It is part of a service which will see 19 people step forward in faith as leaders.
Jules Barnes, Elizabeth Bennett, Claire Parr, Anne Budgell and Sal McDougall are being ordained at Salisbury Cathedral by the Bishop of Sherborne, Dr Graham Kings.
Each will then go back and start serving in their relevant parish.
Jules Barnes in Wilton with Netherhampton and Fugglestone, Elizabeth Bennett and Claire Parr in Broughton Gifford, Great Chalfield and Holt, Anne Budgell in the White Horse Benefice and Sal McDougall to Trowbridge.
All have spent time working in these communities in a bid to get to know them better, first as church workers, and then in leadership roles as deacons.
Commissioning process
Dr Kings will be helped by a team of priests as he prays for and lays hands on the 19 candidates as part of the commissioning process.
But by Saturday, the team will already have got to know each other and the bishop as they have been on a spiritual retreat at Hilfield Priory in Dorset.
Time at the retreat gives the new priests a chance to think, pray and prepare for the challenges that lie ahead for them.
Dr Kings said: "Praying for the holy spirit to fill the lives of these 19 people as they are ordained priest is at the heart of this service."
He added that it was an" amazing and extraordinary part of the ordination".
"It is encouraging that so many are prepared to offer their lives to serve God and neighbour in the ministry," he said.
The service will be held at 1100 BST on Saturday 2 July at Salisbury Cathedral.