Swindon's young offenders payback with vegetables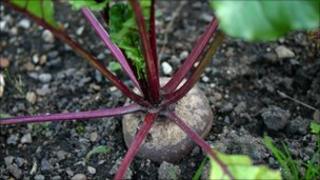 Young offenders in Swindon are paying back the community with vegetables.
The offenders are planting, growing and harvesting flowers, fruit and vegetables at an allotment in Stratton St Margaret.
As part of the new community payback scheme, the produce is being given away to schools, churches and care homes.
It is hoped the "green initiative" run by the Youth Offending Team (YOT), will lead to a reduction in re-offending amongst youths in Swindon.
The main aim of YOT is to "help young people avoid offending".
Swindon Borough Councillor David Renard, cabinet member for children's services, believes the new scheme will also help reduce the "fear of crime".
"There is no better way for young offenders to give something back to their local community than to have them work by clearing weeds and planting and nurturing flowers and vegetables to be given back to local people," he said.
"The allotment is a good example of this, with local people seeing for themselves the hard work being put in by youngsters and which in turn raises public confidence in our youth justice system."
Young offenders given a community based order are required to carry out community reparation projects that benefit local communities or charities in need.
'Secretly enjoying'
One 16-year-old young offender has been attending the YOT's allotments as part of his community order.
He said: "To be honest this was pretty much my last chance. Nothing was going right at school, so yes it has been a life changing experience at the YOT here.
"We're getting some strawberries, we've got a couple of bags going to primary schools, and hopefully we can continue that good progress and hopefully we can do bigger and better things."
Denise Rafferty, a YOT officer, said the young people seem to be "secretly enjoying it".
"They just sort of get their backs into it and really just got on with it without too much moaning," she said.
"Whether it can reduce the risk of re-offending I don't know but I know that some of our young people, particularly the ones that are here, are finishing their orders and they just seem to have turned things around for themselves."