Triple fatal crash driver Jack Forester 'avoiding deer'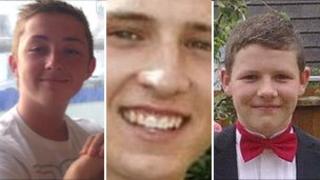 The driver of a car which hit a tree on New Year's Eve killing three teenagers said he had swerved to avoid a deer.
Jack Forester, 21, told the inquest in Trowbridge that he had steered to avoid the animal on the A342 near Rowde, in Wiltshire, before hitting a tree.
Jack's brother George, 17, Frankie Bowyer, 16, and Jamie Walker, 17, died in the crash in December.
The coroner recorded a verdict of accidental death and has recommended a speed limit of 50mph on the road.
The three friends, from Chippenham, were in a red Renault Clio at the time of the crash.
Frankie was declared dead at the scene, Jamie died later that day in hospital and George died from his injuries on New Year's Day.
Car swerved
A fourth passenger, aged 17, suffered serious head injuries and is recovering but has little memory of the incident.
Mr Forester said that as he approached the right hand bend in the road he heard his younger brother shout out.
"He just shouted my name and as I swerved the car to the right I then did see an animal," Mr Forester said.
"I saw the animal as it ran across the path. It was larger than a fox and I thought it was a deer.
"I started swerving back to the left and at that point I saw George try to help by pulling the steering wheel down towards him.
"As I approached the tree I did press the brakes but accidentally pressed the accelerator which took us onto the tree."
Post-mortem examinations found the teenagers died from injuries sustained in the road accident.
Ian Singleton, the Assistant Deputy Coroner for Wiltshire and Swindon, said: "Having regard to that evidence I find that on the balance of probabilities that the deaths of Frankie, Jamie and George were as a result of an accident."
Since the accident, friends of the boys have raised money in their memory through wrist bands and a tribute song.
A football match between FC Chippenham and Marlborough was also organised.
A cheque for £22,912 was presented to the Wiltshire Air Ambulance charity recently.