Firefighters rescue woman from Swindon tower block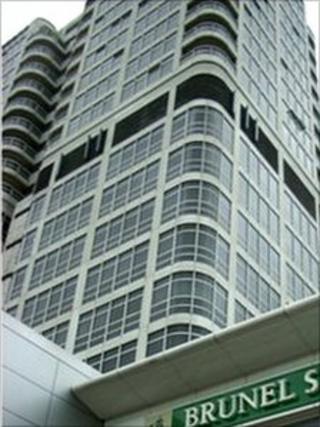 A woman has been rescued from the 17th floor of a tower block in Swindon after a fire started in her flat.
Emergency services were called to the David Murray John building in the town centre at 0800 BST after reports the woman was trapped.
Wiltshire Fire and Rescue Service said that the brigade's high rise procedures were put into place as a precaution.
The cause of the fire in the 83m tall (272ft) building - a mixture of flats and offices - is not yet known.
'Woman shouting'
Eyewitnesses said five fire engines arrived at the flats in the town centre and dozens of people were ordered out of the building while the fire was tackled.
One resident told BBC News she heard the woman shouting.
"She was shouting, 'help help get me out of here'.
"I thought she was going to die in that fire.
"I was told to get out quickly [by firefighters] so I got dressed and then ran down the stairs in case anything else happened.
"It was quite frightening for me. It's the first time the fire alarms have gone off for real," she said.
Seventy-two flats occupy the top 17 floors of the building - the tallest in Swindon - with office space allocated to the bottom four floors.
The woman was taken to the Great Western Hospital for treatment.
The nature of her injuries are not known.