Petition against Chippenham parking charges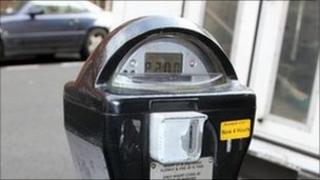 More than 3,000 people have signed a petition against parking charges in Chippenham.
A rise in charges at car parks across Wiltshire was brought in by the Conservative-led council in April.
Sue Timms, who started the petition, said fewer people were coming to the town and shops were closing.
Wiltshire Council said new parking ticket machines would be introduced across the county so shoppers get some money back if they spend in the shops.
Council officers are still working out the detail of exactly how the scheme will work.
A parking charge of £1.10 for an hour was brought in in Chippenham, after previously being free.
Ms Timms, deputy manager of fashion shop M and Co, which is to close in September, said: "The town started getting quiet as soon as parking prices went up.
"It doesn't help if you've got a high rate of rent, you need to be able to make a profit. Quite a few shops are closing down.
"If they dropped the charges it would be too late to save certain shops, but it would encourage people to come into town and people looking to start businesses in town in the empty units."
'Difficult times'
The charges were brought in in a bid to protect subsidised bus services.
Dick Tonge, the council's cabinet member for highways, said they were looking at installing the cash back machines in response to the petition.
But he said parking charges were not the only reason shoppers were staying away.
"The real issue is we are living in difficult times and family budgets are under tremendous pressure.
"Retailers across the county are in difficulty. Car parking prices are only a part of it."
Mr Tonge said: "We are going to convert all the machines in Wiltshire to enable retailers to do cash back, if they wish, if people spend, say, £30 in a shop."
He said the scheme would be brought in within the next couple of months.
"We are doing this as quickly as we can in response to this petition. We don't want the viability of towns jeopardised."