Cancer survivor from Warminster on charity music tour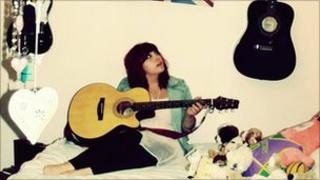 A teenage singer from Warminster, diagnosed with a cancerous bone tumour five years ago, is organising a music tour to raise money for charity.
Georgie Vale, 18, was diagnosed with osteosarcoma but is now in long term recovery after being given the all-clear earlier in the year.
She now wants to book gigs throughout the South West in August with the aim of raising £1,000 by the end of the tour.
The money will go to Cancer Research.
"I've organised successful charity events in the past for CLIC Sargent which helps families of children and young adults who are diagnosed with cancer," she said.
"Now I'd like to help donate towards Cancer Research."
Georgie is calling for other Wiltshire musicians and venues to help her make the tour a success.
So far, she has booked live music nights at The Queens Head in Box on 13 August, The Lamb in Devizes on 15 August, and Riffs Bar near Swindon the following day.
Acoustic songs
Georgie has been writing and recording her own acoustic songs for two years.
"I'll be playing an acoustic set myself, with help across the region from my musical friends in the South West," she said.
"So if anyone has any money to donate or would like to help out in other ways it would be very much appreciated.
"I'm open to any ideas, even if you have a venue to offer or want to organise a gig in your local area too."
Georgie has also set up a donations page.