Olympic boost for engineering firm Fastglobe Mastics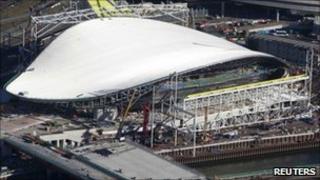 The boss of a Wiltshire-based engineering firm has said next year's Olympic games has provided a huge boost for business.
Fastglobe Mastics, based in Steeple Ashton, Trowbridge, has worked on the Olympic Park in London, providing anti-graffiti work at the aquatics centre and joints and sealants for bridges.
All the work has been carried out by a workforce from Wiltshire.
Manager Sean Gilbert said winning the contract had been "well received".
The company, which had previously worked on the new Wembley stadium and other football grounds in the UK, was awarded the contract after going through a competitive tendering process.
'All worthwhile'
Mr Gilbert said it had been important for the company to be involved in such a prestigious scheme.
"It happened at a time when not a lot of money was available in other construction projects, so having that work in the bag was well received," he said.
"In a year's time I'll be looking in on television saying 'we did that', and it'll make it all worthwhile."
With a year to go until the start of the London 2012 Games, the Olympic Delivery Authority (ODA) has announced it has awarded more than 1,500 direct contracts worth more than £6bn, 98% of which have gone to UK-based companies.